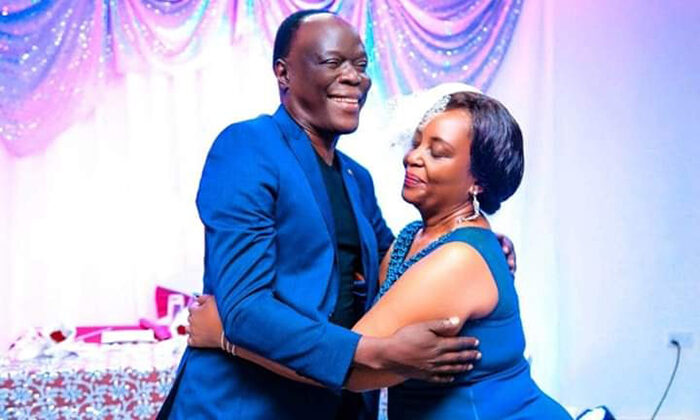 Prof. Simeon Kayiwa, the vision bearer of Namirembe Christian Fellowship together with his wife Celia Kayiwa are celebrating 39 years of marriage.
Despite the ongoing nationwide lockdown to contain the spread of the Coronavirus, the couple announced their milestone achievement in a Facebook Post on Saturday: Congratulatory messages flooded in.
The Kayiwas are popular for their one-month courtship story that led to their marriage on 16 May, 1981.
Simeon Kayiwa who is also a doctor of Psychology and Chancellor of Kayiwa International University revealed in an interview with local press years back that within just one month of courtship to Celia, he was able to learn more about her.
"I consented to his proposal because I saw in him a good partner and it took me one month to feel satisfied in my heart that he was the right man for me," Celia Kayiwa, a doctor said then.
Simeon Kayiwa scoffs at many young people today who take long in courtship. He believes the most important thing about a relationship is knowing that the person you are sharing a life with loves you for who you are and not what you have.
"Avoid entering a marriage based on what you will get out of it," Pastor Kayiwa said.
Celia confirms this, saying when she met her husband, he wasn't rich, didn't have a lot of property, not even a car, but she loved him the way he was and she trusted that God would make their life prosper.
"My idea of love is that it is not in boundaries of property or sex, or the ability to have a child or not. Love is universal, it is a biological force that cannot be stopped," Pastor Kayiwa said.
"Marriage is like a garden. In order to keep your garden fresh and good, you have to prune it and spray the insects out of your garden. In the same way, spray any insects or bacteria that could have infected your relationship and clean it up," Celia advises.
The couple has four biological children, an adopted daughter, and many spiritual children.
Related posts

Daily Devotionals
>>> ERROR: Contact the Administrator to see this content <<<